Hi crafting friends, and welcome to another Art with Heart Team blog hop where we are focusing on Fancy Folds.
You will find loads of creative inspiration tonight, showcasing different folding techniques and projects. Don't be afraid of trying some Fancy Fold cards; they may look intimidating, but in fact, they are not that difficult to create.
So grab that cuppa, you deserve it, sit yourself down in your favourite chair and enjoy our blog hop.
My Fancy Fold is an Infinity or
a.k.a
a Never Ending card.
Front of the card.
You start with four pieces of cardstock that measure 6" x 3", and when glued together, they fold over each other again and again and again hence the name - Infinity/Never Ending card. It is such a clever fold and I really enjoyed decorating it as a baby card for a friend's daughter, who is having her third child in October, a little boy. I've used the colours Crumb Cake, Pool Party and Whisper White.
For the DSP, I chose Petal Garden, which is a 6" x 6" pack in the Annual Catalogue and some Year of Cheer from the Christmas/Holiday Catalogue.
We don't have any "baby" related images in our patterned papers, but I feel the ones I chose are soft and subtle and perfect for a baby card. A number of stamp sets were used for the images and sentiments, and I enjoyed inking up sets I hadn't used before.
For the front of the card I have used the following:
'A Little Wild'
'Bookcase Builder'
'In the City' (Hostess set)
'Labeler Alphabet'
and
'Special Celebrations'
See if you can work out which stamps belong to which set. 😀
Fold 1.
The side and centre panels have been matted with Crumb Cake and DSP. The sides are in one of the lovely soft Pool Party designs from Petal Garden and just peeking out from underneath the centre squares is one of the Year of Cheer designs. I stamped directly onto the side panels using Pool Party ink. These images from the
'Bookcase Builder'
stamp set are so gorgeous! I have die cut a stitched square for the writing panel and a smaller one for the Crumb Cake teddy bear. I've added a little enamel dot to his bow. Cute!
Fold 2.
More stitched square shapes, some Sweet & Sassy hearts and this gorgeous sentiment from
'Bookcase Builder'
, make up the decorations for this fold. I've created a little bit of my own DSP by stamping more baby images from the same set, again onto the Petal Garden DSP.
Fold 3.
Here you can see that stamped DSP better. It's really rather cute!
And here we are back at the front of the card, where I took a close up photo of the little bear with his Linen Thread bow.
I have made a little video of how the card folds. You can watch it below by clicking on the arrow.
Well friends, I'll leave you now to continue on your tour of our blog hop. Next up is the lovely and very talented Ros Davidson - I can't wait to see what she has created and all of our other equally lovely and talented team members who have joined in our Fancy Folds blog hop.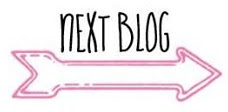 If you find a broken link or have come to this blog hop from a different entry point, you can view the list of participants below:
Until next time...
Stay happy and stay crafty! 😊
💖