Tonight the Art with Heart team girls are sharing some wonderful ideas to inspire you with our Designer Series Papers. This month is the start of the new Stampin' Up! year and we have a special promotion on our Designer Series Paper, buy 3 get 1 FREE for the month of October and there is no limit!
Just get in touch with me or your demonstrator if you would like to know more about this fantastic offer! Our DSP can be used in so many ways - it's not just for cards or scrapbook pages. The quality of Stampin' Up!s DSP is second to none.
You may be wondering why I have written
For Dorothy
in my title. Well Dorothy, or Dot to all who knew and loved her, was my mother-in-law and I would like to dedicate this hop project in her memory.
It was Dot who taught me how to make these Christmas decorations many years ago using recycled Christmas cards and at the time they were all the rage. Dot was a great crafter and enjoyed many different types of crafts.
Sadly our Dot passed away in 1990 from breast cancer at the age of 54.
The Bundle of Love Specialty DSP with the pretty pink of Blushing Bride and the lovely Gold Foil was the perfect choice for this handmade decoration. I started by punching out 20 circles with the 2" punch and scoring an equilateral triangle measuring 1 3/4", you then fold on the scored lines to create the shape needed.
I've used a Gold Mini Tassel and two of the Powder Pink Bitty Bows, which are stuck back to back and either side of the tassel ring to decorate the bottom of the bauble. I threaded a long piece of bakers twine onto a needle to pull the tassel up into place and tied a knot leaving quite a long loop, then I cut a piece of the Gold Metallic-Edge ribbon and passed that through the bakers twine loop to form another loop and tied it off. It is a little hard to explain exactly in words, but I hope you're able to see what I did and mean from the photos. The two knots are inside the bauble, leaving a nice finished loop at the top for hanging.
When Dot showed me how these were made we just stapled our circles together, but I have used Tombow for a neater finish. You need 5 circles for the top and bottom and 10 around the middle.
I will hang this from our tree this year in loving memory of our beautiful Dot.
💝


If you are already hopping, then you have just come from the blog of our lovely and talented team member
Catherine Proctor
, but if you have started with me, you need to now click the "next blog" arrow below to keep hopping along. Blog hops are full circles, so you can start anywhere, and at the end of each blog post there is the arrow to take you to the next one. You'll also find a list of participants in the blog in case of any broken links. Next up is the equally lovely and talented
Monika O'Neill.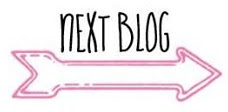 Until next time.....
Stay happy and stay crafty! 😊
💖